Africa Needs Special Prayers To Restore Its Glorious Days--Global Prayer Summit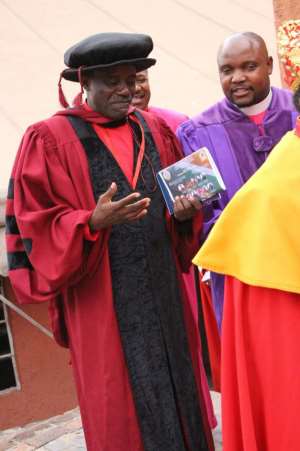 The South Africa Union Council of Independent Churches (Saucic) have called for special prayers for Africa continent for total restoration of her glory.
According to the prPreside of the organisation, Archbishop Patrick Modiri Shole, God has endowed Africa with enormous Natural and human resources that place the continent above other nations of the world.
He opined that there was the need for spiritually awakening by African Church leaders to Unite as one to pray and stand against Corruption in Governance and public organisations so that there can be improvement in economic and social growth ,also political tolerance cohesion for development target at eradicating poverty and social vices in Africa
In line with these vision, the Global Prayer summit was held in South Africa on the 18th May to 21st May 2018 In attendance were Religious Leaders across the World.
Rev Dr Nicku Mordi, founder , I Go Africa For Jesus based in America attended the summit. Others are Bishop Dr Boyd Jones, founder Global Justice Ministries New york, Bishop Dr Emmanuel Moyana from Zimbabwe, Bishop Ndabila from Tanzanian, Archbishop James Haruna, Nigeria.Archbishop Owen Mc Gregory South Africa. Bishop Prof Peter Kayode Falarungbon from Ghana and hundreds of Archbishops, Bishops , Apostles Participated in the Global prayer summit which was held in Johannesburg .The South Africa deputy minister of Tourism Elizabeth Thabetha represented the Goverment of South Africa at the summit. She enjoined religious leaders to partner Government in the fight against social vices in Africa.
At the climax of the Conference, many men and women of God were elevated and awarded. Bishop Peter Kayode Falarungbon, founder Awakeners International Church Accra Ghana received professorial award from Trinity International Bible University South Africa. Archbishop Prof Patrick Modiri Shole, president Saucic also received Christian Philanthropist Award, from Christian Philanthropist Forum Cordinated by Bishop Peter Kayode.
Other Leaders including Archbishop Owen Mc Gregory received eminent excellence Awards