How To Effectively Tackle The Rising Indecent Waste Disposal In Ghana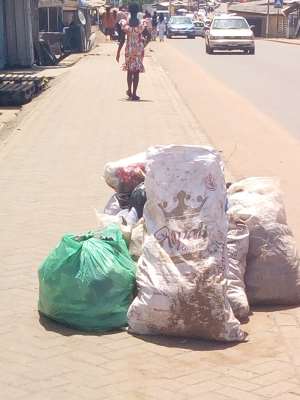 Once upon a time Ghanaians had to carry refuse daily from their homes to a central disposal point in their neighbourhoods usually at dawn.
This activity was mostly undertaken by women and children as they are tasked with household chores such as sweeping and keeping the environment clean.
With the introduction of waste management companies such as Zoom Lion and Asadu, carrying refuse has become a thing of the past as many households are registered with these companies who collects refuse once a week and are paid monthly.
This practice somewhat ensured that the city is very clean while making life easier for the populace.
However, there are some unscrupulous people who have refused to register with these companies and have resorted to dumping rubbish in the middle of major streets and pavement across the capital.
This has become a trend and not a day passes by without noticing a heap of refuse on roads and pavements.
Now this is getting out of hand as most perpetrators go unpunished and there hasn't been any concrete attempt to bring them to books.
I would like to draw the the attention of the sanitation minister and authorities in charge to curb this practice right at its initial stage before it escalates into something else.
Here are few suggestions I would like to make.
First, there should be a task force which will ensure that perpetrators caught in the act are made to pay a huge spot fine thereby deterring others from engaging in same practice.
Secondly, those with grave offences should be sent to the police station, processed for court, given a jail term and be made to pay a fine. These fines could be used to employ people to clean the streets and also to provide dustbins across the capital.
Additionally, boldly designed signboards warning the public to desist from indiscriminately throwing rubbish about should be scattered around with fines visibly displayed on them.
I was very much impressed when Citifmonline.com, reported on two cases where residents of Lapaz and Kwame Nkrumah Interchange were arrested and fined for dumping refuse on the N1
Highway
and Kwame Nkrumah Interchange respectively.
It is a step in the right direction but more needs to be done if we are to achieve any meaningful result as a country.